The combination of naltrexone and bupropion results in a response rate almost six times greater than with placebo in patients with moderate or severe methamphetamine use disorder, results of a new randomized trial suggest.
"For the first time, there's hope for patients with methamphetamine use disorder who want to change, who want to stop using methamphetamine," lead author Madhukar H. Trivedi, MD, professor of psychiatry, Peter O'Donnell Jr. Brain Institute, University of Texas Southwestern Medical Center, Dallas, told Medscape Medical News.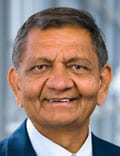 The results indicate that the combination therapy is safe and effective for use in clinical practice, Trivedi said. "Doctors should look into this carefully, prescribe it and push for getting it reimbursed by payers of patients' health insurance."
The study was published online January 13 in the New England Journal of Medicine.
The stimulant methamphetamine (also known as meth, ice, blue, and crystal) causes release of dopamine, norepinephrine, and other neurotransmitters, leading to powerful euphoric effects and increased energy. This very addictive drug is mainly used recreationally. It is identified as a Schedule II medicine according to the US Controlled Substances Act.
Methamphetamine use disorder is a serious condition associated with medical and mental health issues, functional impairment, and frequent relapses, the researchers note. The disorder has been on the rise in the United States, partly due to the crackdown on prescription opioids, but unlike opioid addiction, there are no approved medications to treat it.
While numerous studies have looked at many different medications to treat meth use disorder, "unfortunately" they have not been shown to be all that efficacious, Trivedi said.
The pathology related to the "complicated context" of stimulant use and the associated behavior "are very difficult to change," he said.
Identifying effective treatments is an essential public health goal, the authors said.
Bupropion, a stimulant-like antidepressant, acts through the norepinephrine and dopamine systems and might ameliorate the dysphoria associated with methamphetamine withdrawal that drives continued use. Naltrexone, an opioid-receptor antagonist, has been shown to be effective for the treatment of opioid use disorder.
Research suggests that used alone, bupropion and naltrexone have some efficacy for meth addiction. "Individually, they have been shown to have some signals, but not a large enough effect for me to say we should invest time, energy and money on this," Trivedi said.
The results of a small, open-label pilot trial indicated that naltrexone plus bupropion might be effective for the treatment of severe methamphetamine use disorder. These findings supported the development of the current randomized, double-blind, multisite trial known as ADAPT-2.
This two-stage study used a sequential parallel comparison design aimed to enhance the likelihood of detecting efficacy of the combination treatment. For the first stage, 403 adult participants were randomized to receive extended-release injectable naltrexone (380 mg every 3 weeks, instead of the typical 4 weeks) combined with once-daily oral extended-release bupropion (450 mg per day) or the same schedule of placebo.
The average age of participants was 41 years; 68.7% were male and 71.2% were White.
Participants had moderate or severe methamphetamine abuse, but most were "very severe," and using the drug on an almost daily basis, Trivedi said. Many also had coexisting substance use disorders involving cocaine, opioids, cannabis, or alcohol, which is not uncommon in addiction, he said.
Patients visited the clinic twice weekly for drug screening of urine samples. To encourage treatment adherence, they were educated on the importance of taking their medication regularly and as prescribed and were asked to use a smartphone-based application to track bupropion ingestion.
"We tried to make sure we implemented aspects of the study design and conduct that would mitigate problems with adherence that previous studies had encountered," Trivedi explained.
Those in the placebo group who did not respond in the first stage underwent randomization again in the second stage, which included 225 patients. The purpose of the rerandomization was to "try to mitigate the placebo response," Trivedi said.
He explained that in a number of conditions, including depression as well as methamphetamine, cocaine, and alcohol use disorders, "the fluctuating nature of the presentation of symptoms often interferes with the signal for drug efficacy," he said.
The design also involved use in each group of a weighted combination to analyze the responses in the two stages. Overall treatment effect was defined as the between-group difference in the weighted responses.
The primary outcome was a response, defined as at least three methamphetamine-negative urine samples out of a possible four samples obtained at the end of each stage.
At the end of the first stage, 16.5% in the treatment group and 3.4% in the placebo group had a response; at the end of the second stage, these figures were 11.4% and 1.8%, respectively.
After weighting and combining the percentage of responses across the stages, the overall weighted response was 13.6% in the treatment group and 2.5% in the placebo group, for a treatment effect of 11.1 percentage points (lower boundary of the 95% confidence interval, 6.3; Wald z-test statistic, 4.53; P < .001).
The number needed to treat for one patient to have a response was nine.
The finding of a treatment response that's almost six times better than placebo is "exciting," Trivedi said. He noted that this response is better than for treatments in fields like smoking cessation or depression.
"Importantly, for those people who got better, this is amazingly life-changing," he said.
A secondary outcome was the percentage of methamphetamine-negative urine samples. The researchers found this was 20.4% and 12.3% in the naltrexone-bupropion and placebo groups, respectively, in stage one, and 19.2% and 13.4%, respectively, in stage two.
For this outcome, the weighted difference between the two groups was 6.8 percentage points.
Additional secondary outcomes all favored the treatment vs placebo groups. The weighted differences for other measures included: methamphetamine craving scores on a visual analogue scale for the previous week (-9.7); depressive symptoms assessed with the Patient Health Questionnaire-9 (-1.1); and scores on the Treatment Effectiveness Assessment, which assesses reduced substance use and improvements in lifestyle, health, and community and interpersonal interactions (4.0).
Adverse events were mostly mild or moderate. Those that occurred more frequently (P < .05) with naltrexone-bupropion than with placebo were: nausea, vomiting, constipation, dry mouth, upper abdominal pain, dizziness, tremor, feeling jittery, malaise, hyperhidrosis, and decreased appetite. Serious adverse events occurred in 3.6% of the treatment group.
Strengths of the trial included a low attrition rate and high adherence to the trial regime. A limitation was the relatively low representation of women, although the authors pointed out the male-to-female ratio (68.7% were male) was consistent with the difference in incidence of amphetamine use disorder in the United States.
Future studies may help nail down the exact mechanism that explains the success of combination treatment, Trivedi said.
Commenting on the study for Medscape Medical News, Elie G. Aoun, MD, assistant professor of clinical psychiatry, Columbia University College of Physicians and Surgeons, Division of Law, Ethics, and Psychiatry, and vice-chair, American Psychiatric Association Council on Addiction Psychiatry, said he "loved it."
"The study is important because it found something that is somewhat effective," in treating meth use disorder, Aoun said, noting that the treatments used in the trial are already available.
As a self-confessed "research nerd," Aoun said he admired the study design and algorithm used to limit bias. He also pointed out that the study protocol involved not just doling out medicines but also frequent interaction between subjects and research staff.
"We know that talking to someone and engaging with them about drug use can have a small effect" on this use, Aoun said.
He called the study "a step in the right direction," and said he hopes it opens the door for more research into alternative treatment options for meth addiction.
However, the study doesn't provide all the answers, Aoun said. "We have to understand that it's not going to be effective for the majority of people."
While the number needed to treat of nine means one person may potentially benefit, "that leaves 8 people without effective treatment," Aoun added.
And although the response to the combination treatment is "much better than not having anything," which is the current situation, it's "not great," Aoun said. This, he added, is especially true when compared with interventions used in other addictions; for example, suboxone (an oral combination of buprenorphine and naloxone) for opioid use disorder.
"One of the biggest factors that changed the opioid crisis and treatment of opioid addiction was the development of medications that work, that are extremely effective."
A major incentive to find solutions to meth use disorder is the growing number of overdose deaths in the United States that has accelerated during the COVID-19 pandemic because people are more isolated and lonely, Aoun said.
And, just as opioid users are dying from ingesting fentanyl-laced drugs, so too are meth users.
"People on the streets who are addicted to meth are buying what they think is meth, only to find out these drugs are also laced with the opioid fentanyl," Aoun said. "It's creating a new generation of people who have an opioid use disorder who weren't intending to use opioids."
Complicating the meth abuse picture is the relationship between the drug and sex, Aoun said. "A lot of people use it almost exclusively in the context of sex," which may interfere with the ability to have an intimate relationship with a partner without it.
The study was supported by the National Institute on Drug Abuse (NIDA) of the National Institutes of Health, and the US Department of Health and Human Services. Trivedi reports receiving consulting fees from AcademyHealth, Acadia Pharmaceuticals, Alkermes, Allergan, Alto Neuroscience, Axsome Therapeutics, Boehringer Ingelheim, Vital Signs GreenLight, Janssen, Jazz Pharmaceuticals, Lundbeck, Medscape, Merck Sharp & Dohme, MSI Methylation Sciences, Myriad Neuroscience, Navitor, Otsuka, Oxford PharmaGenesis, Perception Neuroscience Holdings, Pharmerit International, Sage Therapeutics, Signant Health, and Takeda Pharmaceuticals USA; fees for serving on a data and safety monitoring board from Applied Clinical Intelligence; fees for serving on an endpoint review committee from Engage Health Media; and grant support, paid to his institution, from Janssen Research and Development, Johnson & Johnson Health Care Systems, and the Patient-Centered Outcomes Research Institute. Aoun has disclosed no relevant financial relationships.
N Engl J Med. Published January 14, 2021. Abstract
For more Medscape Psychiatry news, join us on Twitter and Facebook.