Harold Bornstein, MD, President Trump's former physician for almost four decades, has died at age 73, according to a paid notice published Thursday in The New York Times.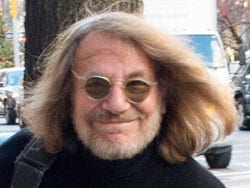 Bornstein made headlines when he issued a statement on December 4, 2015 saying, "If elected, Mr. Trump, I can state unequivocally, will be the healthiest individual ever elected to the presidency."
At the time, Bornstein, an internist and gastroenterologist, in addition to treating Trump in a concierge practice in Manhattan, was working at Lenox Hill Hospital in New York City. He later told CNN in 2018, "[Trump] dictated that whole letter. I didn't write that letter. I just made it up as I went along."
Bornstein's father, Jacob Bornstein, MD, was Trump's primary care physician until his death in 1980, at which point Harold Bornstein took over care, ABC News reports.
The notice did not list a cause of death or include where Bornstein died, but said he passed away last Friday, January 8. The notice also makes no mention of his 37 years as Trump's personal physician, from 1980-2017.
A report in the Times told the story of the ending of the relationship with the president.
"When Mr. Trump was elected president in 2016, Dr. Bornstein had hoped to be named White House physician and suggested as much to a longtime Trump assistant," the Times report said. "But he was expelled from the Trump orbit after he disclosed to The Times that the president was taking medication to make his hair grow."
Shortly after that disclosure in February 2017, Bornstein alleged, White House officials raided his office to obtain the president's medical records.
Bornstein told NBC News that the incident "created a lot of chaos" and left him feeling "raped, frightened, and sad."
Then-White House Press Secretary Sarah Huckabee Sanders said that taking possession of medical records was "standard operating procedure for a new president" and that it was not accurate to call what happened a "raid."
Bornstein graduated from Tufts University (1968) and Tufts Medical School (1975) in Boston, Massachusetts.
He told Tufts Medicine magazine in 2017, "We have managed to run a concierge medical practice for more than 50 years without any contracts with patients or any extra fees. However, my greatest successes have been avoiding managed-care medicine and refusing to have the conservative beard and haircut that my parents thought was necessary for success."
He completed his internship and residency at Lenox Hill Hospital in internal medicine, returned to New York City after his fellowship at a Yale-affiliated  hospital in Connecticut, and went into practice with his father. He also served on the staff of Lenox Hill Hospital for more than 40 years.
According to the obituary notice, Bornstein is survived by his wife, Melissa, a daughter and four sons, two of whom are also physicians.
"His children will miss regular trips to the Giants game with one of their biggest fans," the notice read.
A patient who said Bornstein had been her family's personal physician for 30 years commented on the obituary notice: "He was quirky for sure but such a wonderful diagnostician and very loving man. I know I will never have that level of personal care again."
Marcia Frellick is a freelance journalist based in Chicago. She has previously written for the Chicago Tribune, Science News and Nurse.com and was an editor at the Chicago Sun-Times, the Cincinnati Enquirer, and the St. Cloud (Minnesota) Times. Follow her on Twitter at @mfrellick