Editor's note: Find the latest COVID-19 news and guidance in Medscape's Coronavirus Resource Center.
Now that the first COVID-19 vaccine has been authorized for use in the United Kingdom and the United States, healthcare workers are in the first priority group to be eligible for vaccination. Medscape asked doctors, nurses, and other healthcare workers what they were thinking as they received their shot. Here are a few of their answers.
Join the campaign by taking a photo or video of yourself being vaccinated and post it on social media. Tag it #MyCOVIDVax and @medscape.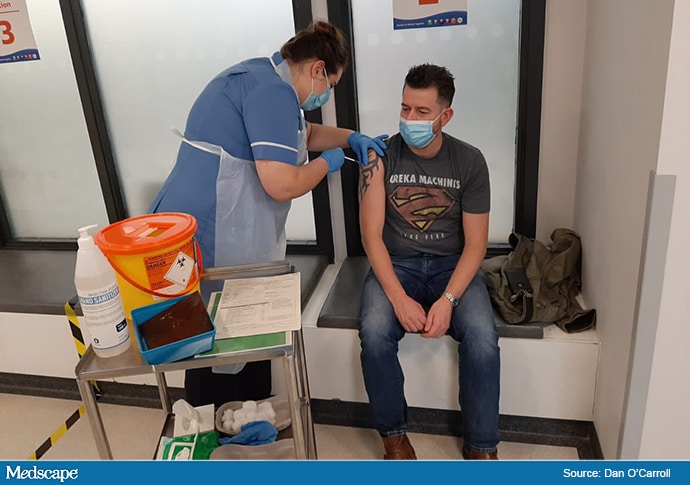 Dan O'Carroll, MB ChB, MRCS (ED), FRCEM,  Emergency Medicine, Walsall Manor Hospital, United Kingdom
My feelings about the jab: Relief that finally there appears to be light at the end of the tunnel, and we can start to think about a return to more normal times without the horrible and on-going death toll this disease has brought upon us. Chances for my parents, in the future, to be able to come into close contact and hug the grandchildren. Relief on a personal level, having managed to avoid contracting COVID so far, there still was the niggle that I could be one of the unfortunate ones that succumb to this horrible disease. And a true appreciation of the staggering achievement of the research scientists that have managed to roll out a vaccination for a disease that we'd never even heard about 12 months ago.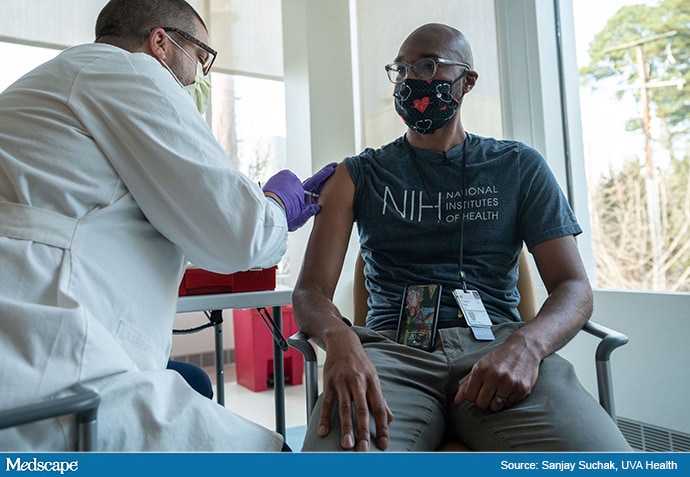 Taison Bell, MD, University of Virginia, Charlottesville
I've talked to my children about the coronavirus, that it's caused so many problems in the country and the world, and that it disproportionately impacts the black community and Latino community and other underserved populations. I've told them I'm worried about getting infected myself or spreading the virus to them or to their grandmother. All this has been a weight on me in addition to the strain of taking care of patients — some of the sickest patients I've ever taken care of in my life. These complex emotions came to a head the moment that vaccine went into my arm. I had this feeling that there's a way to lift this now, we can finally turn the corner on this. Many of the things I've been worried about can — at least in some part — be better. It's like I didn't realize how heavy all this was until I felt the weight come off a little bit. It was a remarkable moment, one I'll never forget. 
Storm Dutton, PA, University of Kentucky College of Medicine, Lexington
I thought about how this vaccine could have saved my dad. He died exactly 4 weeks before it was released, from COVID-19 respiratory failure at 48 years old. I thought about how helpless I felt knowing I am a licensed medical provider and couldn't save him. This is my glimmer of hope for everyone else, to spare them the loss I carry with me now. I thought about seeing every COVID patient in the ED without the fear of bringing it home to my family and friends, inevitably. I thought about the near future; intubated and critical patient counts in the hospital dwindling down as the vaccine decreases exposures and builds herd immunity.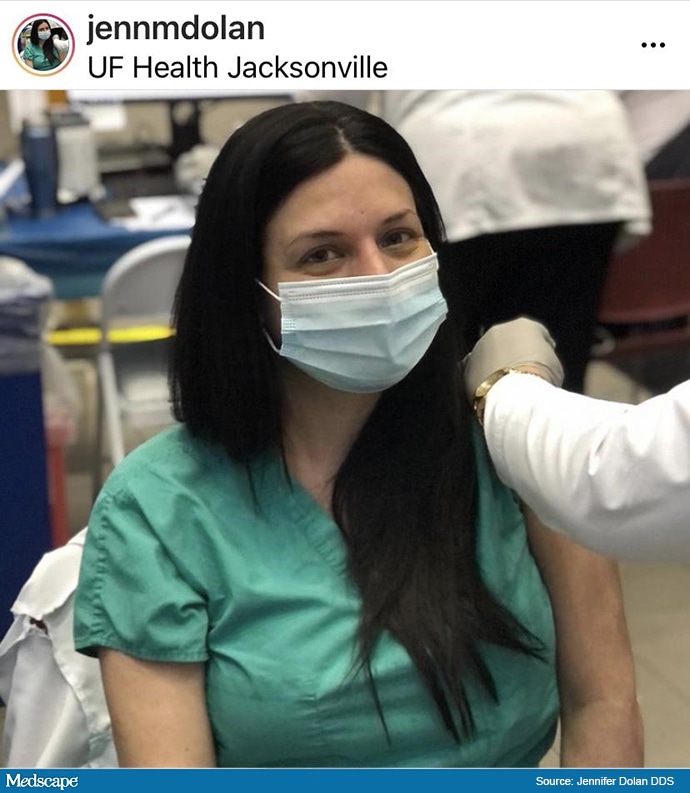 Jennifer Dolan, DDS, University of Florida, Jacksonville
I feel lucky to have had access to the vaccine so early because I am 26 weeks pregnant and work in a high-exposure-risk field. I am now 24 hours post-administration and have had no symptoms other than mild injection-site soreness.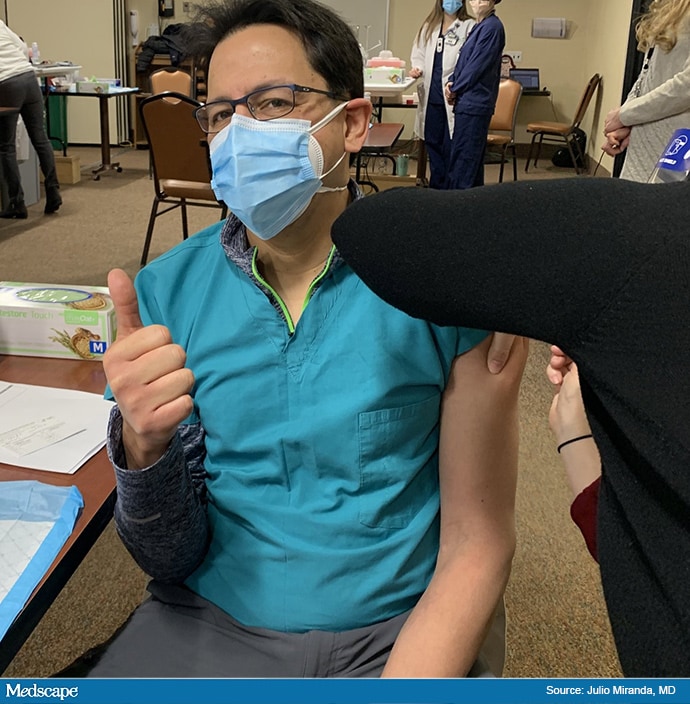 Julio Miranda, MD, Berkshire Medical Center, Pittsfield, Massachusetts
It was very emotional. I was very happy but mostly thankful. As an ICU doc I thought about all the patients I've been taking care of in this 9 months of pandemic. Their suffering, their families. My hope is that everybody gets the vaccine. There is hope at the end of this nightmare.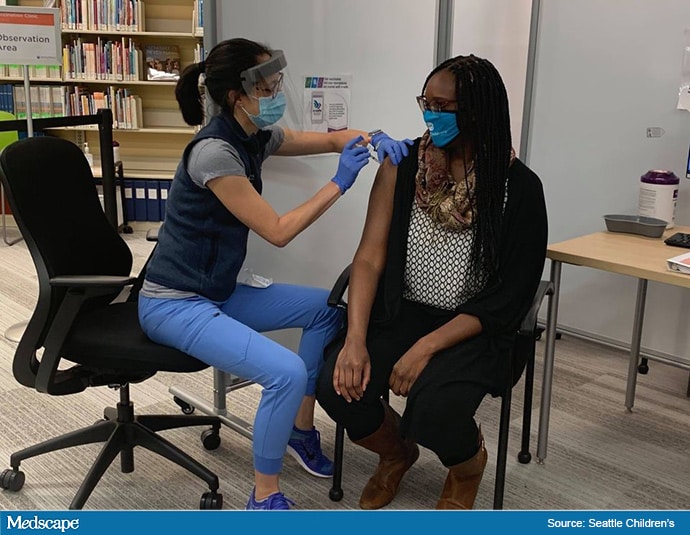 Courtney Gilliam, MD, Seattle Children's Hospital, Washington
As a Black pediatrician, I feel the weight of addressing a new vaccine and how complicated that can be, especially for communities who have experienced the ways racism impacts our healthcare system, . I understand why people have questions and skepticism about the COVID-19 vaccine. To educate myself and others, I turn to evidence-based medicine and peer-reviewed materials. After reviewing the available information on the Pfizer vaccine and really understanding the development process it's gone through, I feel confident this is the right thing to do.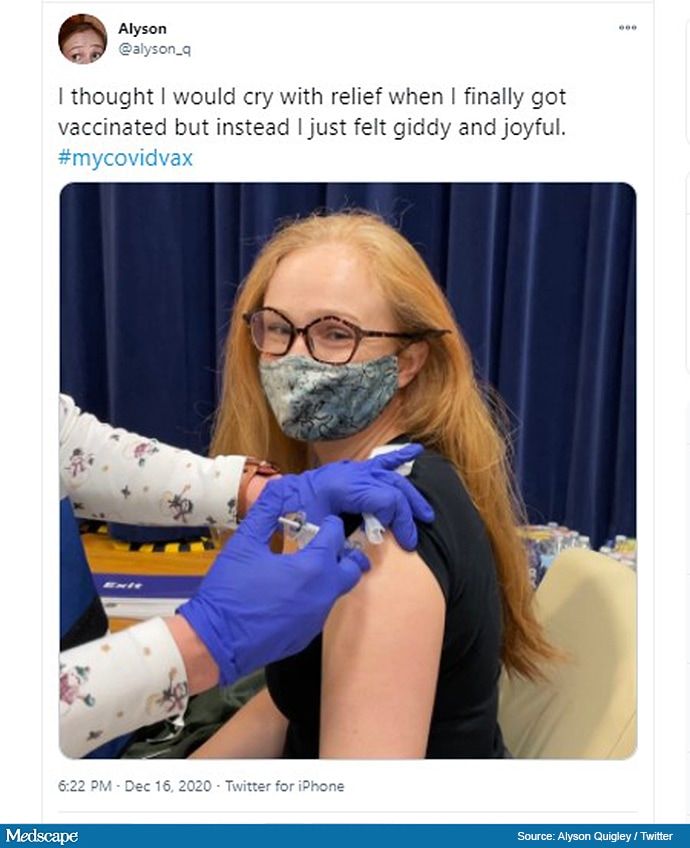 Alyson Quigley, MD, VA New York Harbor Health System
I thought I would cry with relief when I finally got vaccinated but instead I just felt giddy and joyful.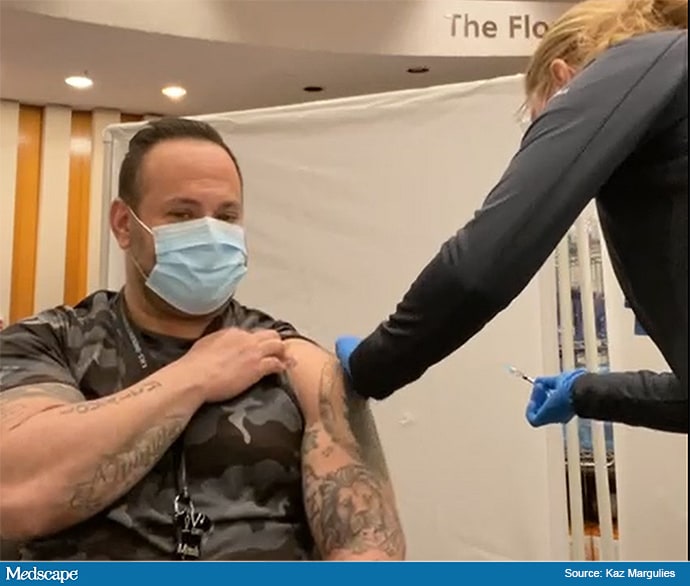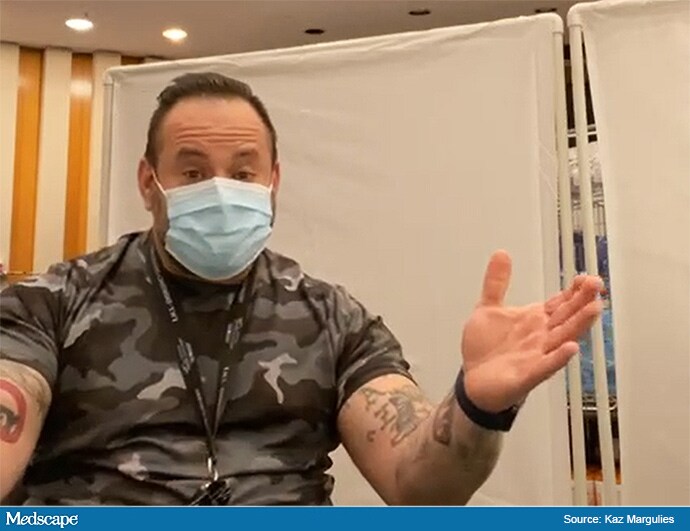 Kaz Margulies, EMT, Long Island, New York
I wanted to get it as my part in conquering this deadly disease. Before I got it, I was a little nervous due to the fact of the unknown. But I know in my heart that science has to be trusted and this was the right thing to do.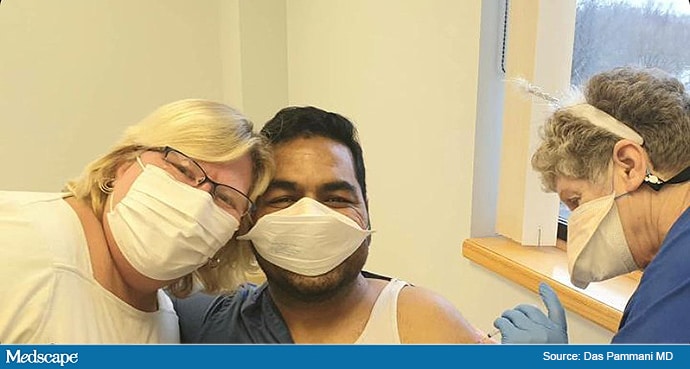 S. Das Pamnani, MD, PhD, Perry Memorial Hospital, Princeton, Illinois
I am glad to have received the Pfizer COVID vaccine. I work in a rural hospital and see patients in the hospital as well as in clinic. COVID death rates are about 2% in our small Bureau County, which is terrible. I am very excited and hopeful for the staff and community members with the availability of the vaccine. I can't wait until the vaccine is available for everybody in the community.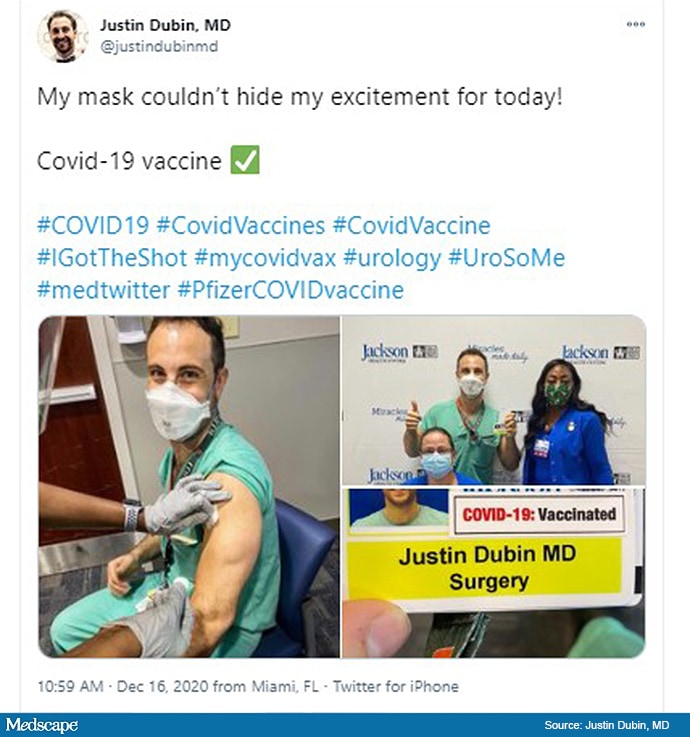 Justin Dubin, MD, University of Miami, Miller School of Medicine, Florida
My mask couldn't hide my excitement for today!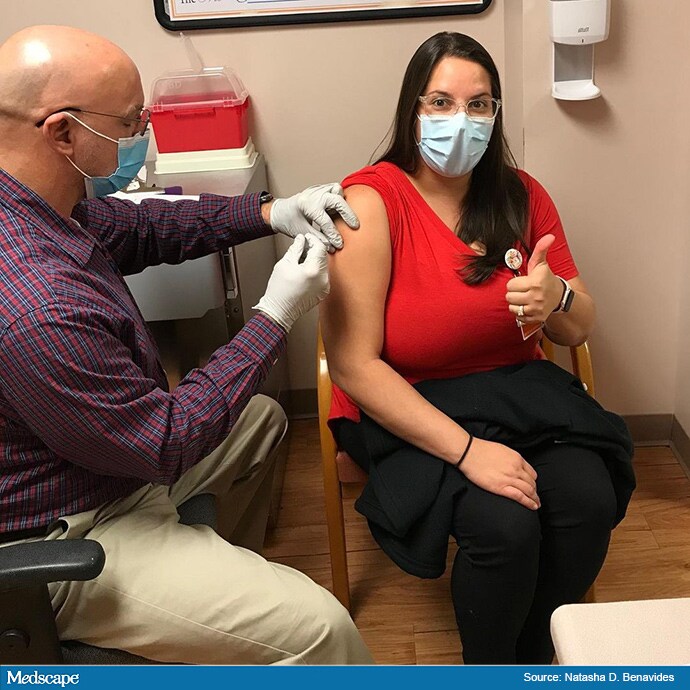 Natasha D. Benavides, PA-C, Davis Health System, Elkins, West Virginia
Me: I'm going to wait out the first few rounds of the covid vaccine and see how it plays out.
Also me the minute our hospital got the vaccine: SHOOOOOT ME UP!! 
I'm doing this for my newborn baby. I'm doing this for my older babies to have a normal life and to be able to see their grandparents again. I'm doing this so we can safely go to church again. I'm doing this so I can better take care of my patients and their families. 
Let's be honest. We all have some hesitancy about the vaccine, but I am resting in that fact that we have THE MOST INTELLIGENT PEOPLE IN THE WORLD collectively working on this vaccine to help protect everyone. No political agenda. No microchips. No crazy claims of making everyone infertile. Just top-notch human beings with the same goal of keeping everyone ALIVE, safe, and healthy.
Hesitant last week, a little anxious this week, the anxiety and guilt of bringing something home is unbelievable. With lots of hope and whispered prayers…here we go! 
For more news, follow Medscape on Facebook, Twitter, Instagram, and YouTube.